Welcome to the BiCon 2004 web site!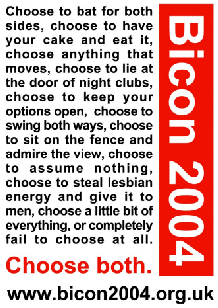 Brilliant News At the close of advance online bookings on August 15th, we had over 230 people registered for the conference - so this BiCon looks set to be HUGE! You will still be able to register "on the day" - see the day registration page for details.
Pre-BiCon Social
As BiCon approaches, the organisers knew they would need some beer, so on
Monday 23 August
there will be a bi social The Cloak of Invisibility held downstairs at Taurus, 1 Canal Street, from 8pm, along the way making sure the bi community is a part of the 2004 Manchester Pride festival. Hope to see you there!
As BiCon gets closer, this site will grow and grow. Let us know what you want to see here or need to know about BiCon 2004 through the contact us page.
In the meantime you can keep in touch with the bi scene in the UK through Bi Community News magazine, and if you live in or around Manchester then BiPhoria is the perfect place to meet other bi's.
Please email any comments, errors and omissions on this website to BiCon 2004 web email address deleted.
---
A composite of a couple of 'after BiCon' front pages is here.